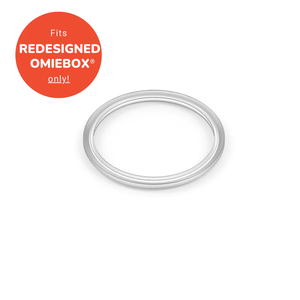 Gaskets
This is a gasket for the thermos lid.
It must be assembled on the thermos lid to make the thermos leakproof. 
After each use, please remove the gasket and clean with warm, soapy water. Please let dry completely before re-installing again. 
*IMPORTANT*
These spare parts will only work with the redesigned OmieBox® model.
If you're unsure which model you have, please turn your box over.
On the back of the box, there is a square box with 8 alpha numeric characters.
If the code has the letters

 

SD, it's the original model.
If the code has the letters

 

CH, it's the redesigned model. 
DISCLAIMER:
Actual product color may vary slightly due to different device screen settings and lighting during photography.